Are you looking for creative ways to spruce up your backyard without spending a fortune? If so, you've come to the right place. Installing grass can be expensive, and if you're not prepared for the long-term maintenance that it requires, it can quickly become a costly hassle. Fortunately, there are plenty of cheap no-grass backyard landscaping ideas out there that will help you create an inviting outdoor space without breaking the bank. In this blog post, we'll explore some of these ideas in more detail so that you can transform your yard into something special without spending too much money.
Creating a Patio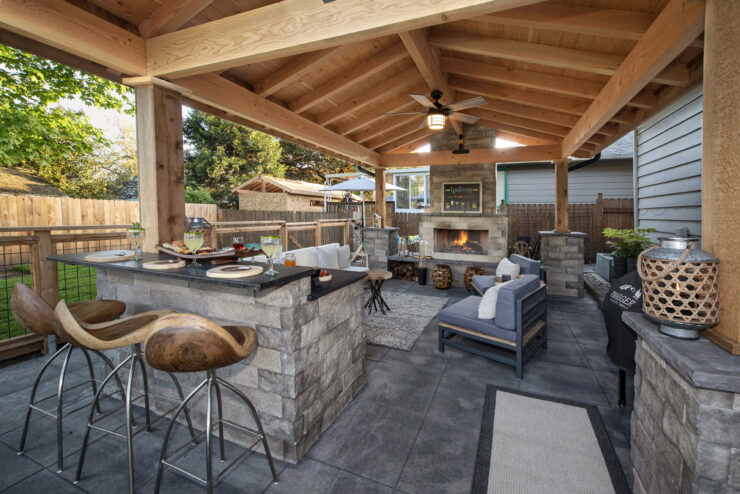 If you have a backyard that is in dire need of a makeover, but you don't want to spend a lot of money, then creating a patio is a great option. A patio can provide you with a place to relax and enjoy the outdoors without having to deal with the maintenance of a lawn. Plus, it can be a great place to entertain guests.
There are a few things you need to keep in mind when doing. To start, you need to select the right location. The patio should be in an area that gets plenty of sunlight and is away from any trees or shrubs that might drop leaves or pollen into it. After that, you need to choose the right materials. Pavers are a great option because they are durable and come in a variety of colors and styles. Third, you need to make sure the patio is level so that it drains properly. Fourth, you need to add some furniture and accessories to make it more inviting and comfortable. Finally, you may want to consider adding some plants around the perimeter of the patio to soften the look and provide privacy.
Creating a patio is a great way to give your backyard an updated look without spending a lot of money. Keep these tips in mind and get started on your own backyard oasis today!
Adding a Fire Pit
If you're looking for a cheap way to add some pizzazz to your backyard, consider adding a fire pit. You can find fire pits at most home improvement stores, and they're relatively easy to install. Just make sure to follow the instructions carefully so you don't end up with a dangerous situation.
Once you have your fire pit installed, you can start using it right away. Gather some wood and kindling and get the fire going. Then, invite your friends and family over for a night of fun around the fire. roasted marshmallows, telling stories, and making s'mores are all great activities to do around a fire pit. So go ahead and add one to your backyard today!
Just remember to always be safe when using a fire pit. Make sure you keep a bucket of water nearby in case the fire gets out of control and also never leave the fire unattended.
Building a Garden Shed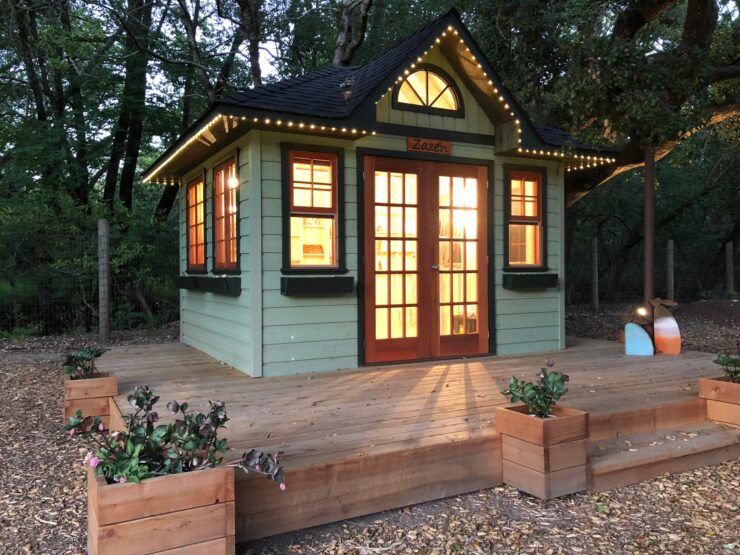 Building a garden shed is a great way to add some extra storage space to your home. They can be used for storing tools, lawn equipment, and other outdoor items. They can also be used as a workshop or a place to relax in the sun.
If you are thinking about building it, there are a few things you will need to take into consideration. The first thing you need to do is decide where you want to build it. You will need to find a level spot in your yard that gets plenty of sunlight. Once you have found the perfect one, you will need to clear away any debris or vegetation that is in the way.
After that, you will need to determine what size shed you would like to build. Sheds come in all different sizes, so it is important to pick one that will fit the space you have available. Once you have decided on the size, you will need to purchase the materials needed to build it. Most garden sheds are made out of wood, but there are also metal and plastic options available.
Once you have all of the materials, it is time to start building! If you are not confident in your ability to build the shed yourself, there are plenty of kits available that include everything you need. These kits typically come with easy-to-follow instructions and all of the necessary hardware.
Building a garden shed is a great way to add extra storage space and value to your home. With a little bit of time and effort, you can have a beautiful shed to enjoy for many years to come.
Easy-care artificial turf
Artificial turf is one of the most popular choices for backyard landscaping. It is easy to care for and requires very little maintenance. There are a few things you need to do to keep your artificial turf looking its best.
You need to rake or sweep the turf on a regular basis to remove any debris that might have accumulated. You should also hose down the turf occasionally to remove any dirt or dust that has settled on it.
If you have pets, you will need to clean up after them as well. Be sure to pick up any pet waste immediately and dispose of it properly. You may also want to consider investing in a pet-friendly artificial turf cleaner to help keep it looking its best.
You need to make sure the infill material in your artificial turf is kept at the proper level. The infill helps protect the blades of grass and gives the turf its springy feel. Over time, the infill can settle and become compacted, so it's important to add more when necessary.
It is necessary to ensure that your artificial turf is getting enough sunlight. This is especially important if you live in an area with long winters. You can move it around periodically so that it gets even sun exposure throughout the year.
You also need to be aware of potential drainage issues. If water does not drain properly from your artificial turf, it can lead to mold and mildew growth,
Conclusion
In the end, there are so many options for creating a beautiful no-grass backyard landscape without breaking the bank. Whether you choose to focus on, these cheap backyard landscaping ideas can help you create an attractive and inviting space that is perfect for enjoying all summer long.